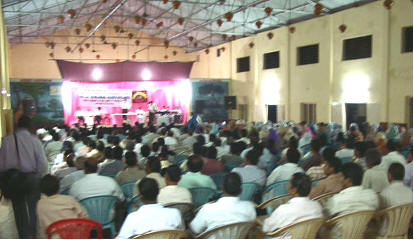 Tony preaches in India Crusade!
Area – comparative: slightly more than one-third the size of the US. Land boundaries: border countries: Bangladesh 4,053 km, Bhutan 605 km, Burma 1,463 km, China 3,380 km, Nepal 1,690 km, Pakistan 2,912 km. Population: 1,065,070,607 (July 2004 est.).
India will soon surpass China in population with already over 1.1 billion people.
India Information: The Indus Valley civilization, one of the oldest in the world, dates back at least 5,000 years. Aryan tribes from the northwest invaded about 1500 B.C.; their merger with the earlier inhabitants created the classical Indian culture.
Arab incursions starting in the 8th century and Turkish in the 12th were followed by European traders, beginning in the late 15th century.
By the 19th century, Britain had assumed political control of virtually all-Indian lands. Indian armed forces in the British army played a vital role in both World Wars.
Nonviolent resistance to British colonialism under Mohandas Gandhi and Jawaharlal Nehru led to independence in 1947.