We ordained Yumiko sensei along with two other ministers, Michihito Kaneko sensei, son in law to Aoki sensei and associate pastor and director of the Christian School and Seiji Ikeda sensei pastoring a new church in the Osaka area. God stretched forth His hand in a wonderful way.

We were joined for a few days with Evangelist Harley Fiddler. He had been teaching in Northern Japan at the Christ for the Nations School and joined us for several meetings.

We also did one seminar for Christians together. Working with Harley Fiddler, veteran missionary evangelist and teacher, is always a special blessing to us.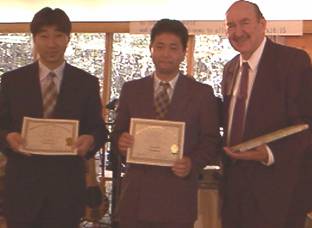 Sensei's Seiji Kaneko & Michihto & Tony
He taught in two Bible Schools in Osaka along with also joining Marge and I in teaching the students of various classes of students at the Christian School.

He is honest, sincere and dedicated. We do not often get many opportunities to work with him.

However, when we do, it is always wonderful ministry and a joy to work with Harley as not only is he always upbeat but also a man filled with the Spirit and Word of God.

We have worked together in Japan, Taiwan, USA, Ukraine, Belarus and India. He started his ministry as a Methodist
Pastor.

Harley Fiddler with his interpreter in Osaka.
Then he served in 1978-1979 as Campus Pastor, Faculty Member and Missions Director at Rhema Bible Training Center of Kenneth Hagin Ministries and in 1983 to 1985, he served on the Faculty and was Dean of Family Ministries at Christ For The Nations in Dallas, Texas.

This, I believe, was the Lord preparing him for the ministry of missionary evangelism. His ministry and outreach is similar to our ministry.

Perhaps that is why our ministries flow together so well.

We left him for further ministry in the Osaka area, to fly to Okinawa, which is located in the south-westernmost end of Japan, consisting of 48 islands, including the main island.

Its climate is mild and humid, and between the summer and autumn seasons, typhoons usually appear.
.

Harley can sing as well and was a blessing.